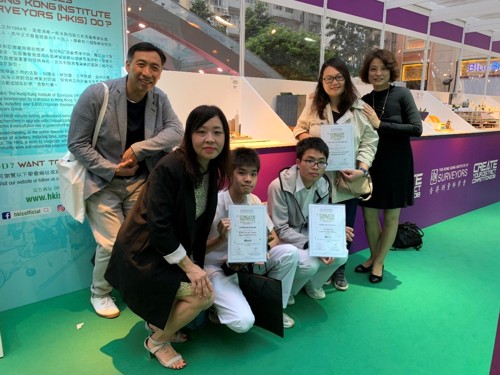 The product of Jasper LAM and Jasper KOO awarded Merit Prize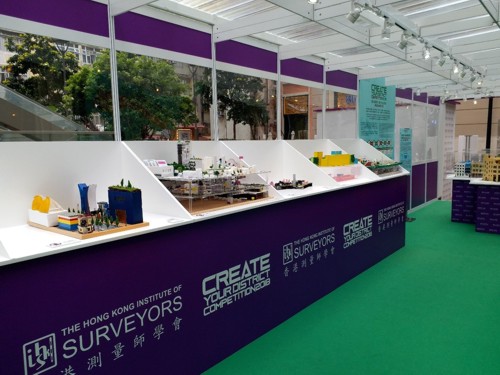 The winning entries of this competition exhibited to the public in Lee Tung Avenue Plaza from October 20 to 30, 2018
Jasper KOO represented the team to introduce their creative ideas to Matthew CHEUNG Kin-chung, the Chief Secretary for Administration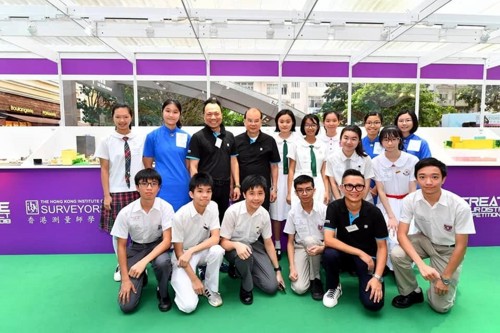 Photo of the award-winning students and the Guest of Honour, Chief Secretary for Administration, Mr. Matthew CHEUNG Kin-chung

Date: July – October 2018
Organizer: The Hong Kong Institute of Surveyors

Students: LAM Wai-lok, Jasper (S5A), KOO Lok-yin, Jasper (S5B)

Award: Merit Prize
Two of our S5 students, LAM Wai-lok, Jasper (S5A) and KOO Lok-yin, Jasper (S5B) have participated in Create your own district competition 2018. The competition is organized by The Hong Kong Institute of Surveyors, our students were awarded Merit Prize.

Since July, Jasper LAM and Jasper KOO have participated in the workshops and field visits in Wan Chai District. After researching work, analysis of demographics and data, and interviews with residents on site, they began to re-plan Wan chai District.

They decided to re-plan the distribution of Wan Chai's commercial and residential areas. They also integrated sustainable elements in their design, green blocks and artistic elements were also enhanced in their newly-designed Wan Chai.
During the summer vacation, Jasper LAM conceived the ideas and created a sophisticated three-dimensional model with CAD software and 3D printers.

The model and design ideas impressed the professional judges and finally they won the Merit Award.

The winning entries of this competition were exhibited to the public in Lee Tung Avenue Plaza from October 20 to 30, 2018.
On the day of the award ceremony, Jasper KOO represented the team to introduce their creative ideas to Matthew CHEUNG Kin-chung, the Chief Secretary for Administration. Being able to interact with professionals and get valuable comments from the judges, both Jasper LAM and Jasper KOO feel that they have benefited a lot through the process.